Why do so many people only see gardening as an activity for retired people, asks Tom Smart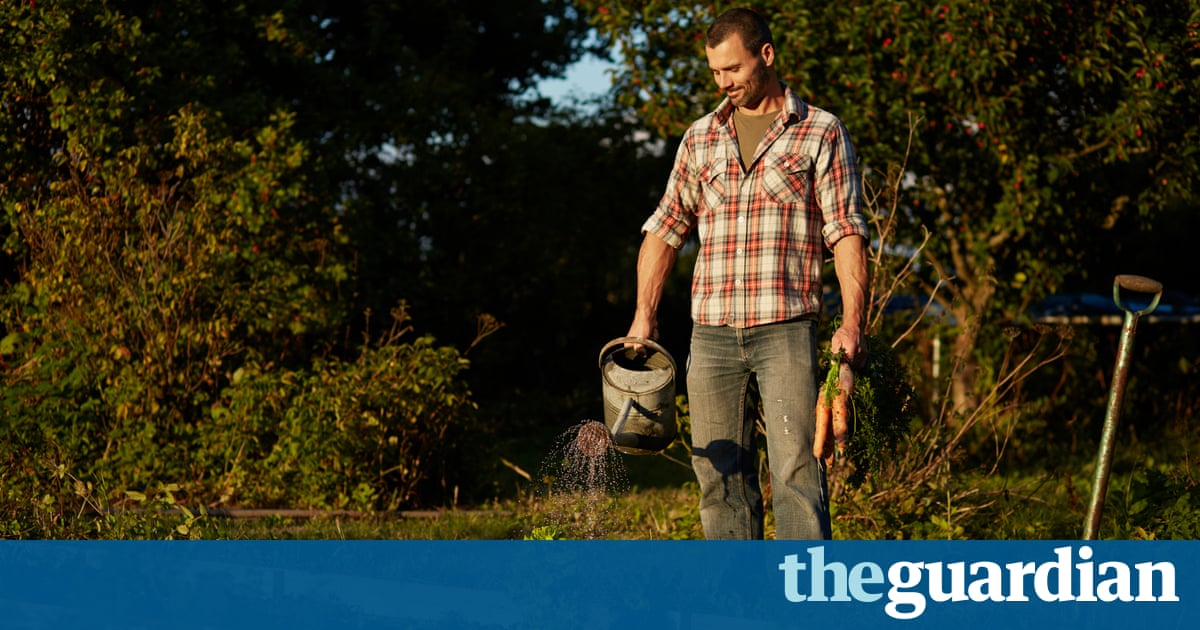 I remember the conversation. The man in front of me was the husband of my wifes friend. I didnt know him that well. Wed just started talking when he took a sip of his drink and asked, Youre into gardening, huh?
I tried to smile, Yep. I like my garden.
So do you have a big garden? he enquired.
Its not a bad size for the house long and narrow but no, its not too big, I replied.
He thought for a moment and then said, I dont mind my garden. Its nice to sit out on a sunny day. Cutting the lawns a real pain though weve talked about getting that imitation grass stuff.
I didnt know what to say. I answered with a noncommittal Mmmmm.
Itd be great. Never have to mow the stuff again, the man said joyfully.
I fell silent.
There was an awkwardness building; we were struggling to find common ground. I could tell that it wasnt the right moment to divulge the fact that I love cutting my grass. Also, I probably wouldnt mention that I particularly love trimming the lawn in the height of summer, just after Ive finished deadheading my roses and staking a few flopping herbaceous perennials. Its a task that immediately makes the garden feel tidier, like putting the right frame around a beautiful painting. Instead I fell back on a topic which can rescue any conversation in Britain the weather. We both laughed about the ambivalent British summers, and the conversation moved on.
Gardening is many things: beautiful, meditative, healthy, exciting, rewarding and creative. However, I often feel as if gardening is not particularly popular among my peers. It seems to come down to one thing: age. Im 35 years old and Im passionate about gardening. Unfortunately, whenever I bring up gardening in a social situation at the pub or in a room of colleagues, for example there can be a few wry smiles. I sometimes begin to feel as if Ive admitted to some unusual obsession, like collecting my own toenail clippings or keeping a pet rock. At Christmas, a family member slapped me on the back and informed anyone listening that I was a sixty year old trapped in the body of a thirty-five year old.
So why is it that many people only see gardening as an activity for the older, retired person? Why do I feel as if so few people my own age enjoy gardening? Why do I always feel the need to explain myself or half-apologise in a self-deprecating way when someone finds out I enjoy horticulture?
Gardening can, and does, interest people of all ages. My children love the garden. They love sowing seeds and picking ripe raspberries with jammy red hands. I used to have an allotment, and there were many people my own age working their plots, enjoying the land and the dirt and the intermittent sunshine. Wed talk about potatoes and peas and the best way to beat the slugs. Ive been to gardening shows and talked with people of all ages and from completely different backgrounds; they all loved plants and watching them grow.
However, and this is a big however, gardening is still dominated by a particular age group. If you need evidence, visit your local flower show and see how many young faces you find. Try looking up recommendations for what to do when youre newly retired; gardening is near the top of the list. If you dont believe me, just look at who the garden centres market themselves towards. At Wyevale Garden Centres club, members who are over sixty get double points on a Tuesday. As for gardening magazines, my subscriptions are often full of advertisements for mobility scooters and life insurance. While I have no problem enjoying a pastime which is dominated by people almost twice my age, it would be nice to see more young people interested in horticulture.
Why is gardening dominated by the older generations? This is clearly a concern to the RHS – they have numerous groups and awards all aimed at young people: the Campaign for School Gardens, the Young Designer of the Year award, and the Young Landscape Contractor award, just to name a few. The RHS has even created a Horticulture Matters industry group to try to address the problem. They are obviously worried about the lack of new talent entering the industry.
While there are no simple solutions, it is clear that gardening is seen as an activity for the more mature adult. What is it about age and gardening which seem to complement each other? For me, one obvious link is simple: patience. Older people seem to be more able to slow down and notice the finer details in life. Nurturing a seed from a speck of dust into a mature plant takes time and persistence two qualities that can be in short supply in our modern lives. We live in a world where there are an excessive number of distractions and people often seem to expect instant gratification. These days, I understand how it can be difficult to convince many young people that a newly emerged tulip is more interesting than a smartphone.
As for me, I love gardening. I love it the way most men seem to love football. And while many guys my age try to convince their partners to let them travel for that away game to Madrid, Im always trying to talk my wife into turning yet more of our garden into raised beds for vegetables. Its a situation that can leave me feeling like an outsider, but its one Ive come to accept. And no, I couldnt tell you whos leading the Premier League right now, but I could talk you through how to take softwood cuttings from lavender I suppose, in the end, I wouldnt have it any other way.
Read more: http://www.theguardian.com/us